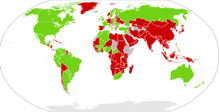 Desambiguación
Edit
"Ciudadano es una concepto de variable significado,ya sea como sustantivo,o como adjetivo,el referente,no ha sido histórico-social-mente el mismo.
Etimología
Edit
El termino,tiene su origen en ciudadano o "Polis",ya que originalmente esta era una unidad política mas importante.Con el tiempo,la unidad pasó a convertirse en Estado,por lo cual el día de hoy nos referimos a "ciudadanos" y "ciudadanas".
Definición del concepto
Edit
El termino "ciudadano",se le otorgaba al hombre que por haber nacido o reside aquí era miembro permanente de la comunidad,que le reconoce la cualidad de ser titular de los derechos organizados de tal comunidad,se les otorgaba a quienes cumplían la "extranjería","raza",la etnia o población,la religión,el sexo,la edad y el nacimiento,han delimitado el concepto de ciudadano,excluyendo al mismo que por cual quisiese de las razones,se le excluye de los derechos de un ciudadano legitimo.
Ciudadana
Edit
Tradicionalmente,tanto la mujer como los niños o sirvientes,no tenían ningún tipo de ciudadanía,servia como ejemplo el "Corpus Aristotelicum",que en ningún momento,reconocía ese derecho,ni siquiera en el siglo XVIII (El siglo de las "luces"),no poseía ningún tipo de derecho,según La Encyclopedie."La mujer no es ciudadano,propiamente dicho,ni durante la niñees,como en la edad adulta.
Ad blocker interference detected!
Wikia is a free-to-use site that makes money from advertising. We have a modified experience for viewers using ad blockers

Wikia is not accessible if you've made further modifications. Remove the custom ad blocker rule(s) and the page will load as expected.